HEK293 expressed
Endotoxin-free
Animal-component free
HumanKine® recombinant human BMP-2 protein- GMP grade
Specific Activity
7.2 x 10^5 IU/mg calibrated against BMP-2 reference standard (NIBSC cat no: 93/574). Reference use only. Specific activity is not routinely tested
Species Reactivity
human,mouse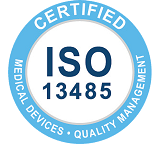 Cat No : HZ-1128-GMP
Synonyms
BMP 2, BMP 2A, BMP2, BMP-2, BMP2A, bone morphogenetic protein 2, Bone morphogenetic protein 2A
---
---
Technical Specifications
| | |
| --- | --- |
| GeneID | 650 |
| Species | Human |
| Expression | HEK293 |
| EC50 | 7.5-37.5 ng/mL EC50 |
| Specific Activity | 7.2 x 10^5 IU/mg calibrated against BMP-2 reference standard (NIBSC cat no: 93/574). Reference use only. Specific activity is not routinely tested |
| Purity | >95% |
| Endotoxin | <0.1 EU/µg |
| Accession Number | P12643 |
| Molecular Mass | 28 kDa, homodimer, glycosylated |
| Formulation | 2x PBS + 6% Ethanol, See Certificate of Analysis for details |
| Species Reactivity | human,mouse |
Stability and Reconstitution
| | |
| --- | --- |
| Stability and Storage | Lyophilized proteins are stable for 1 year from the date of receipt if stored between (-20°C) and (-80°C). Upon reconstitution we recommend that the solution can be stored at (4°C) for short term or at (-20°C) to (-80°C) for long term. Repeated freeze thaw cycles should be avoided with reconstituted products. |
| Reconstitution | Briefly centrifuge the vial before opening. It is recommended to reconstitute the protein in sterile 4 mM HCl containing 0.1% endotoxin-free recombinant human serum albumin (HSA). |
GMP Quality Policies
HumanKine® GMP (Good Manufacturing Practice) recombinant proteins are manufactured and validated in accordance with ISO 13485 quality management system and is compliant with GMP.
Our GMP recombinant proteins are animal component free (ACF), xeno free (XF) and tag free (TF). Read more about these policies here.
Background
Bone morphogenetic protein-2 (BMP-2) is a member of the transforming growth factor-beta (TGFB) superfamily. BMP-2 induces bone formation and regeneration during early embryonic development (PMID 16234975). It is involved in the hedgehog pathway, TGF beta signaling pathway, and cytokine-cytokine receptor interaction (PMID 26620161). Xeno-free Recombinant Human BMP-2 is expressed from human 293 cells as a disulfide linked homodimeric glycoprotein with an apparent molecular mass of 28 kDa.
Synonyms
BMP 2, BMP 2A, BMP2, BMP-2, BMP2A, bone morphogenetic protein 2, Bone morphogenetic protein 2A