HEK293 expressed
Endotoxin-free
Animal-component free
HumanKine® recombinant human Thrombin protein- GMP grade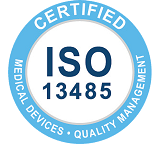 Cat No : HZ-3010-GMP
Synonyms
Coagulation factor II, F2, Prothrombin, PT, Thrombin
---
---
Technical Specifications
| | |
| --- | --- |
| GeneID | 2147 |
| Species | Human |
| Expression | HEK293 |
| EC50 | 1000-5000 units/mg |
| Purity | > 95% |
| Endotoxin | <0.1 EU/μg |
| Accession Number | P00734 |
| Molecular Mass | 36 kDa, glycosylated |
| Formulation | 20 mM MES pH 6.0 + 500 mM Choline Chloride, See Certificate of Analysis for details |
| Species Reactivity | human |
Stability and Reconstitution
| | |
| --- | --- |
| Stability and Storage | This protein is stable for 1 year from the date of receipt if stored between (-20°C) and (-80°C). Repeated freeze thaw cycles should be avoided. |
| | |
| --- | --- |
| Reconstitution | Not Applicable. Product provided in liquid format. |
GMP Quality Policies
HumanKine® GMP (Good Manufacturing Practice) recombinant proteins are manufactured and validated in accordance with ISO 13485 quality management system and is compliant with GMP.
Our GMP recombinant proteins are animal component free (ACF), xeno free (XF) and tag free (TF). Read more about these policies here.
Background
Coagulation factors are a group of related proteins that are essential for normal blood clotting (haemostasis). After an injury, clots protect the body by sealing off damaged blood vessels and preventing further blood loss. Prothrombin circulates in the bloodstream in an inactive form until an injury occurs. In response to that, prothrombin is converted to its active form, thrombin. Thrombin next converts a protein called fibrinogen into fibrin. Thrombin is also important for cell growth and division, tissue repair, and new blood vessels formation - angiogenesis (PMID: 11154146; 16549895; 15892853; 12421139).
Synonyms
Coagulation factor II, F2, Prothrombin, PT, Thrombin